ARTEMIS are on a mission to redefine the way we think about period pain and how we relieve period pain.
Around 80% of those who have periods will experience period pain at some stage in their lifetime. For a further 5% to 10% the pain is severe enough to disrupt their life. Dysmenorrhoea or period pain is in definite need of some revolutionary new solutions – queue, Artemis.
Artemis's carefully designed smart bodysuit with carefully developed design details is set to reform the experience of menstruation for all of those who bleed!
Who are the Artemis team?
D: Before starting Alpha Femtech I have worked for several companies in the field of design and fine art as a marketing manager and brand manager. I love working in startups to accompany something from idea to realisation is very satisfying, challenging and diverse.
I am from Budapest but my family lives in Italy and I lived in Paris and Edinburgh, now I am back in Budapest where I have a 10 years old really funny, grumpy cat, called Mignon whom I got from a shelter.
A: I'm coming from the design field, I gained experience as a fashion designer and stylist in Budapest and Paris, but I always knew I'd like to run a project where I can help to make a better social impact.
As the co-founder of Alpha Femtech, I have a strong vision to create a garment for women which makes their everyday life more comfortable. I love travelling and meeting new people and life-long learning really inspires me. I wish I had a poodle, but currently, I live without furry animals.
What is Artemis?
A: Artemis is a smart bodysuit brand by Alpha Femtech, to help relieve period pain with different technologies integrated into the body.
The technology is based on academic and scientific research, which we extended with qualitative and quantitative interviews when we teamed up with a service design company, Frontira. This method lets us create a product concept, and we are really devoted to finishing our MVP this year.
ARTEMIS is gonna be a very innovative and carefully designed product with smart details to reform the experience of menstruation.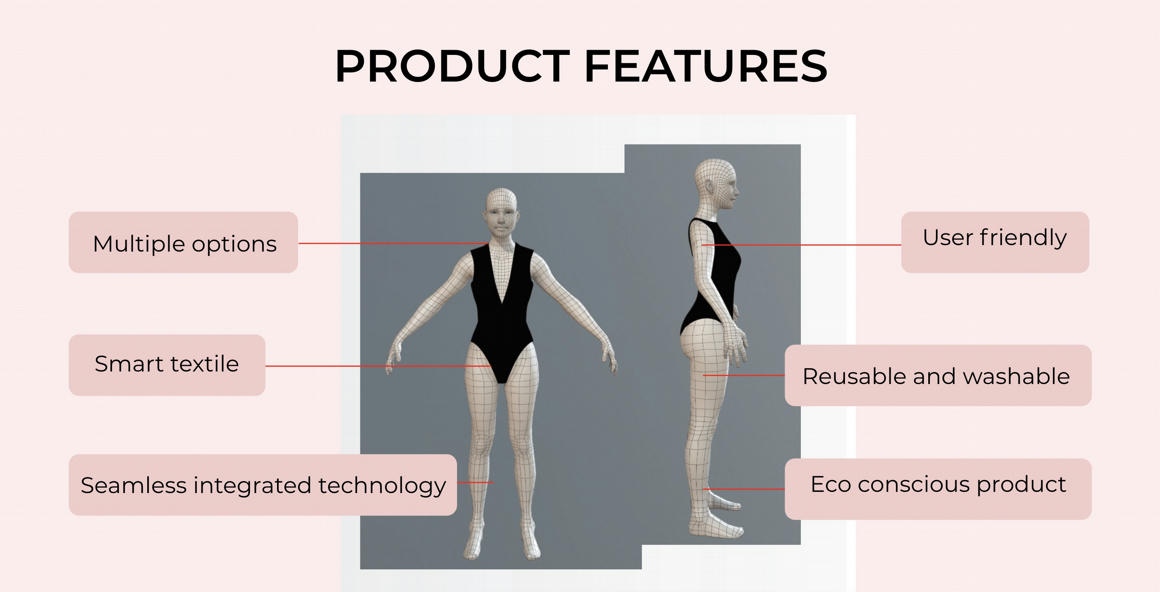 Both: At the moment we are still in the development- research stage, so we have a long road ahead of us. Next year we will launch a crowdfunding campaign for Artemis.
We want to be the first personalizable pain relief wearable in Europe. We want to help and accelerate women's research.
From a company perspective, we envision a continually growing company, where we have a great team of devoted professionals, amazing awareness campaigns to attract attention to period pain and its impact on women's lives and workflow.
What does Artemis stand for?
Both: To set up a start-up was the best decision that could happen to a project like ours. Without any investment it could have been way more difficult to develop the product, the hardware, the software and other key parts of the project need high-level expertise in different fields and the investment allowed us to reach out to experts when we need it.
We are really motivated and devoted to creating an alternative period pain relief method and helping millions of women.
D: We are passionate about learning how women's cycle impacts everyday life. We are also very curious about learning how period pain influences the preconceptions of the period in general. We interviewed more than 300 women to learn about their individual cycle story
A: Artemis is also a socially responsible brand, while we design and build partnerships. Transparency is a key for us.
---
Artemis are part of FemTech Lab's Fall 2021 Cohort.
You can keep up to date with the latest updates via the Femtech Lab website.