For years people who menstruate have been sold the idealised version of what it means to experience that 'time of the month', the narratives as false as the blue liquid used to demonstrate period products in action.
It has taken a pandemic to get us talking more about menstruation. Time away from the office, from school, and from day-to-day routines has people questioning why they have to hide their monthly bleed and the array of symptoms that come with it.
Period Conversations
A recent survey by THINX showed the number of students discussing periods at home has risen 5% year on year to 71%, indicating a new openness. This comes alongside the rise in young people identifying as trans and non-binary – 900k in the US – enabling a new, more inclusive narrative to be integrated into the period conversation.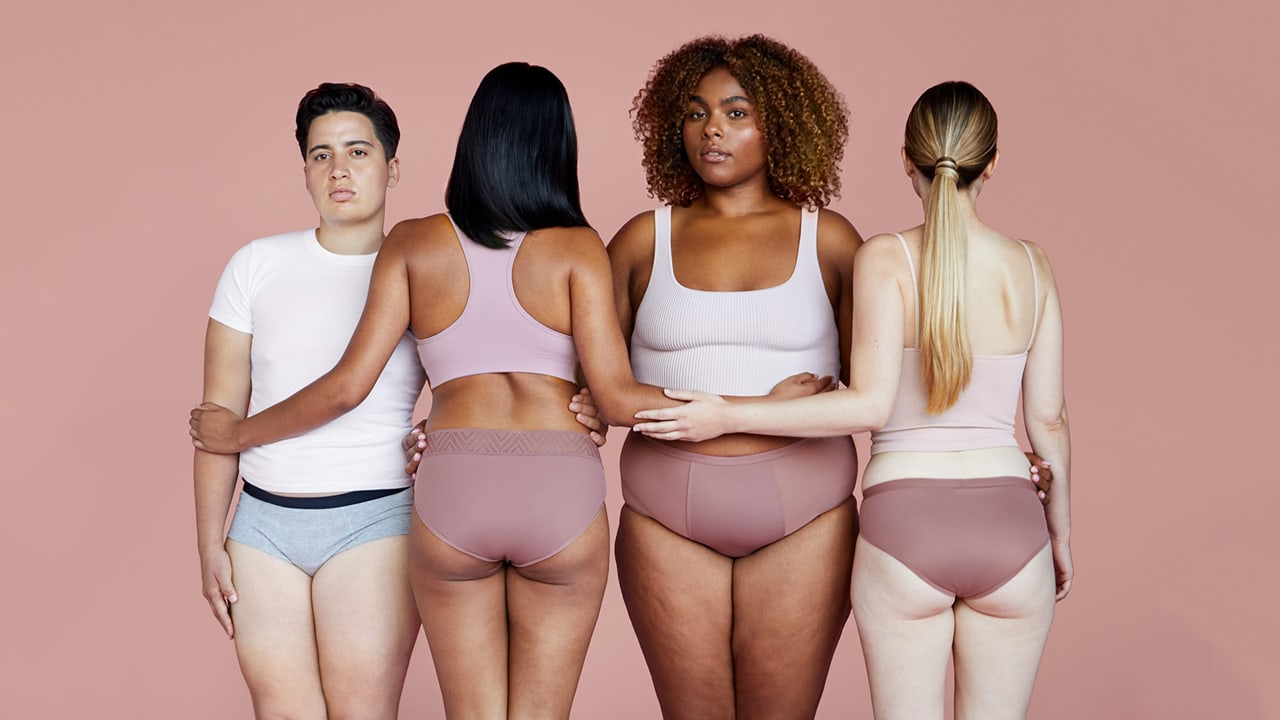 The media are also playing a role, with female directors and screenwriters choosing to normalise conversations around bleeding (see THAT blood clot scene in I May Destroy You). As the conversation gains momentum new voices arise and the giants of cycle care are coming under pressure as consumers swap gendered, non-accessible and outdated brands for disrupters who better align with their values and needs.
These disruptors empower people to share their truths through user-generated content and consumer-centric campaigns. The move towards a more inclusive future sees brands take this one step further, practising radical empathy as part of the design process and ensuring the consumer is involved in every stage from product development to marketing.
Brand Awareness
As we approach 2022 we are seeing a new generation of brands tackling period shame head-on, with bold campaigns and user-generated content designed to inspire confidence. From period products designed to be shown off, to real blood now a staple of user-generated content on social media, people who bleed are no longer keeping their period experience behind closed doors.
The openness promoted by brands like August and their activist-led campaigns is making periods a hot topic, giving people who menstruate proper space and time to discuss their cycle, learn about it and share experiences with others.
Regardless of whether you are a cycle care brand or a luxury fashion retailer, appreciating how giving your customers who menstruate space and time to discuss their cycle will create value and loyalty.
Empathetic Tech
But Radical Openness isn't just about clever messaging and hashtags. Periods happen to lots of people with varying experiences, abilities, bodies and access. As people strive to become more empathetic in how we live, brands must work to eliminate bias within their product offering and technology to meet the needs of all individuals.
Our micro trend empathetic tech shows how in a world increasingly driven by tech we must find a way to bring empathy into the future. The invisibility of marginalised groups within data sets has been widely publicised with the pandemic spotlighting how health disproportionally affects us with regards to our sex, race, clinical vulnerability and socioeconomic levels.
In response, we are seeing a new wave of change-makers emerge: the digital activists. Their focus goes beyond the call for privacy and focuses on creating data diversity. Promoting rich data over big data and heralding a warning of the impact on marginalized communities of making pivotal decisions based on incomplete data sets.
Creating empathetic tech is no easy feat, it requires consideration of how your company can humanise data and avoid perpetuating data gaps, a role best suited to a digital anthropologist like Katie Hillier, whose mission is to innovate the digital side of anthropology:
"In the future, Digital Anthropologists and Data Scientists will partner to bring the messy complexity of humans to data, and in turn help to reduce gaps in inequalities across gender, race, class, nature and beyond."
With an exponential amount of digital touchpoints in the cycle care market, activists are calling on brands to look beyond the needs of cis white women and create tech which, avoids perpetuating data gaps and fills the void.
Inclusive Design
Finally, and perhaps most fundamentally we are seeing a return of radical empathy to product design. In her book Invisible Women, Caroline Criado Perez highlighted the ways in which women struggle to exist in a world designed for men. But this reality only scratches the surface. Good design doesn't just consider the needs of different sexes, it considers people of all abilities, all races and all socioeconomic levels.
The Royal National Institute of Blind People "Design For Everyone" campaign hints at a future where we acknowledge that people have a shared humanity. By redesigning the pregnancy test in a way that allows blind and partially sighted people to read the results without the help of a sighted person, the RNIB were able to demonstrate how accessible design can provide privacy to someone in a highly personal moment.
We also need to build inclusivity into all areas of innovation and not treat it as a USP. Menstrual care has experienced an undeniable push towards conscious design, but there is still an opportunity for wearables to be more inclusive. Moving forward, only offering slightly larger period pants is not going to cut it, all body types can benefit from properly researched product development to provide tailored solutions at all flow levels.
Radical Inclusivity
By 2022 we expect all brands, no matter their product or service, to be aligned with the needs of every person within their organization and customer base who menstruate.
Some of the most innovative cycle care brands that are leading the way in Radical Inclusivity are:
Thanks to Aisle sustainable period care is no longer size exclusive. Aisle has reinvented period underwear and has given women a choice of sustainable, high-performance products that are inclusive for all shapes, sizes and flows.
In a move to be more inclusive and in order to raise awareness, period care brand Freda has launched Cycle, a cycle care range free from preconceptions and inhibitions, considerate of all identities and bodies. Alongside the product launch, the brand collaborated with three LGBTQ+ advocates, sharing their personal experiences and touching on issues of shame and inequality.
August is the brainchild of Nadya Okamoto, period advocate and entrepreneur. Their unapologetic approach to content and bold designs are making bleeding a hot topic, with the conversation quickly spilling over from their community and taking over social media feeds:
"Yep, we menstruate, and we're going to talk about it. It's a tough experience to glamorize, so let's actualize it. Bring on the cramps and bloody visuals!"

August Team
Modi Bodi's Adaptive Collection has been designed for people with disabilities or mobility challenges. Featuring leak-proof Heavy-Overnight lining that holds up to 20mls of fluid, hook & loop tape fastening and elastic hoops which are easy to grasp, it makes changing simple and stress-free whether standing, sitting or lying down.
---
This is the next instalment of our trend foresight blog series from Ultra Violet Futures. Read a little more about them here:
We are the world's first trend forecasting agency focused on FemTech, women's and marginalised health innovation and we are working with FemTech.Live to bring you the industry trends before they hit the mainstream.
If you haven't already seen it, we recently launched our first trend report The Future of Cycle Care: 2022 where we outlined the primary trends we anticipate will dominate the market next year and the drivers influencing the industry.
Each month we dissect one trend a little further and bring you more data, research and insights alongside the brands that are leading the way.
We have previously covered Wellness Pollination which explores cycle specific product development within the wellness industry and Planet Positive which ushers in a new generation of products and brands that are accelerating the industry's eco conscious behaviours.
This month we bring you Radical Openness, a movement which endeavours to create a more inclusive cycle care market.
If you want your business to stay ahead of the curve, get in touch with us to discuss how our virtual presentations, strategic workshops and bespoke services can propel you towards a category definition future.